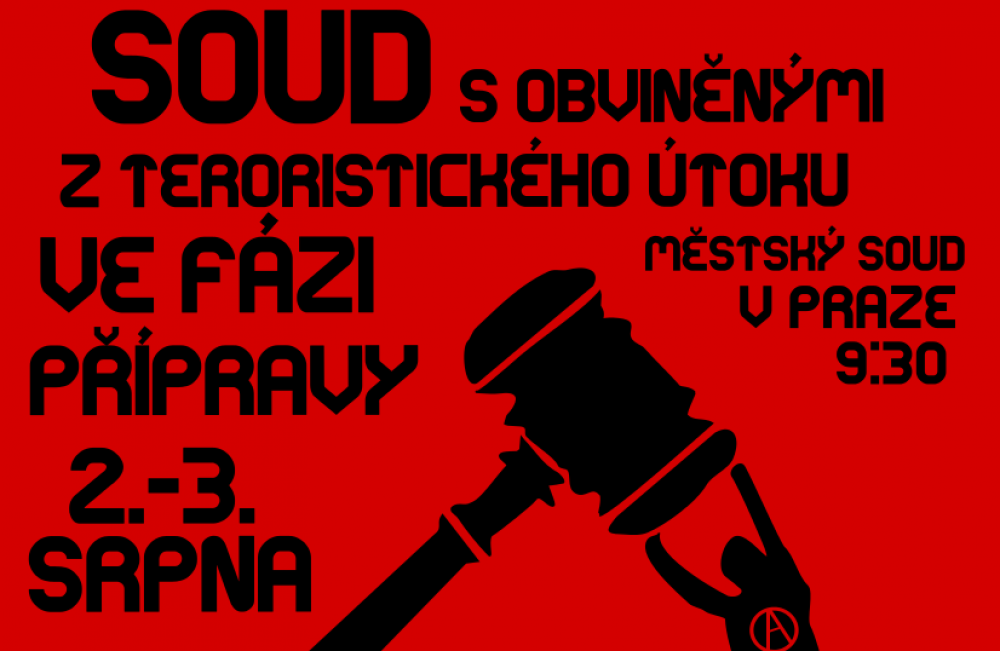 Ve dnech 2. a 3. srpna, v 9:30 ráno proběhne soudní líčení s anarchistkami a anarchisty obžalovanými z teroristického útoku ve stádiu přípravy, které jim podsunuli dva infiltrovaní agenti.
VYZÍVÁME K SOLIDÁRNÍ AKCI na podporu obžalovaných a vyjádření nesouhladu s policejní represí. Jakékoliv vyjádření podpory je vítáno! Přemýšlejte však, jaký dopad bude vaše akce mít na obžalované.
---
On August 2nd and 3rd will be the first court hearing with the anarchists charged for the conspiracy of preparing a terrorist attack against the train with military equipment – a plan initiated by 2 under-covered state agents.
WE CALL FOR SOLIDARITY ACTION to support the charged comrades and to express your disagreement with the police repression. Any kind of solidarity action is welcome but think twice what impact your action will have on the charged ones.
---
Nos dias 2. e 3. de agosto às 9.30 de manhã em Městský soud v Praze (no Tribunal de Praga) acontecerá audiência judicial de anarquistas acusados de um ataque terrorista na fase de preparação, que lhes foi forjado pelos dois
agentes provocadores infiltrados.
Agradecemos pelas todas formas de apoio. A solidariedade é a nossa arma!
Chamamos para um ato de solidariedade que apoiaria os acusados e exprimiria
o desacordo com a repressão policial. Agradecemos muito pelas todas formas
de fomento ou de sustenáculo. Por outro lado é necessário pensar, como o seu
ato pode influenciar a situação dos acusados.
More info on ANTIFENIX.cz