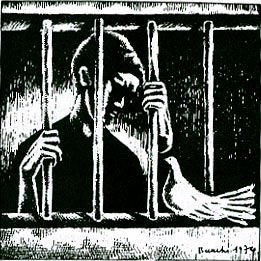 Looking through the barred window of my prison cell and I'm thinking about you
About the humans same as I am but so different from me.
What kind of feeling this must be reading private emails and striving to find evil in a profession of love.
What do you feel while stamping one's homesickness and loneliness with a "correspondence inspection stamp".
It must be a strange feeling
detaining photos of someone's loved one.
Trying to take advantage of someone's affection
for praise from their superiors.
How is it to lie for stripes on a uniform or for a piece of shiny metal.
With no regret, destroying someone's life in a blink of an eye
How does that feel?
The feeling, the man must have had, when
he knelt down a frail girl on a demonstration.
When wire-tapping the people who love him, bugging their books.
Listening to recordings of wire-tapped calls where someone professes love.
What is it like to wait for an excuse
to be able to hurt the most.
Condemn someone just to fulfill someone's order.
Being a dirty glove for someone
absolutely unconcerned.
Trying to find the most sensitive places of those who greeted him with a kiss and hug.
I am trying to understand the motivation behind it, the purpose of behaving that way.
To pay your mortgage and bills? Something to prove or simply a desire to feel power over someone?
A little bit of everything maybe.
Or simply just acting without a thought, like a machine.
Like a log drifting with the current of the river,
crushing everything in it's way.
A piece of wood that used to be a living tree but today it is only a thing.
But people are not things, they desire, dream, love, breathe and live.
Caress their children, love, laugh, cry and feel the pain!
How does it feel to forget all of this and simply just exist.
Petr S./Ruzyně custody jail/23rd May