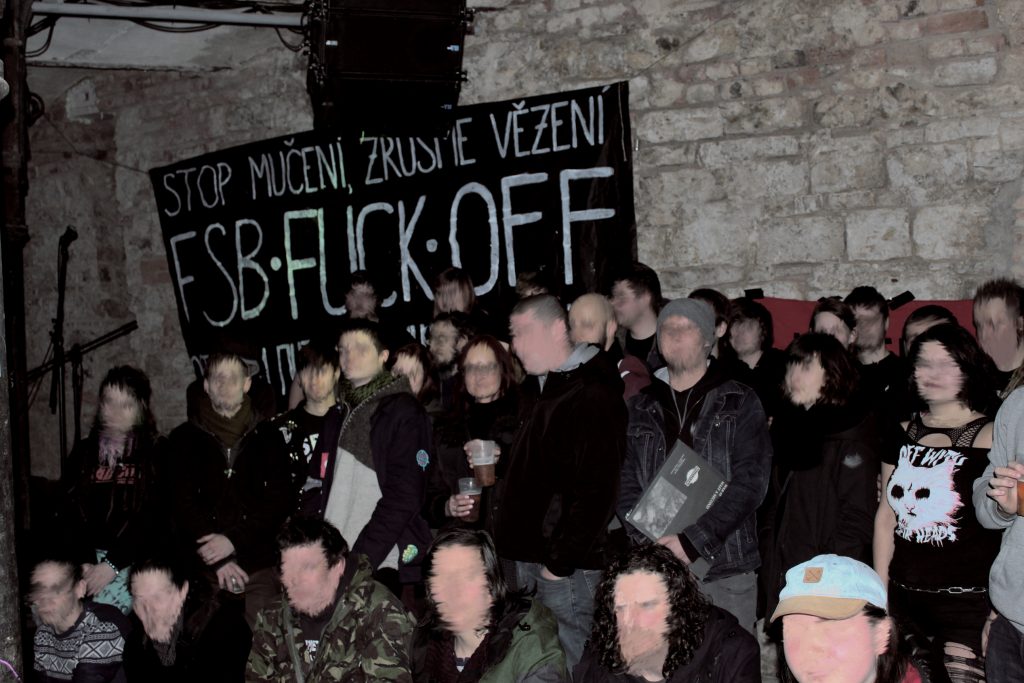 /CZ/ 10. února v Praze proběhl benefiční koncert na podporu Anarchistického Černého Kříže. Během koncertu se informovalo o konkrétních lidech ve vězení a jak je podpořit. Návštěvnici měli možnost najíst se, zapogovat a poslat pohednici do vězení nebo příspět na činnost ABC.
Nedílnou součásti večeru bylo informování o mučení anarchistů a antifašistů v Rusku a celkem o tzv. kauze "Airsoft". Všichni bychom chtěli touto akcí vyjádřit podporu nejen těm, co procházejí mučením a vězením, ale také jejím přátelům, milovaným lidem a rodinám, život kterých se najednou změnil díky vykonstruované kauze za autorstvím FSB.
Nenecháme vás v tom samotných.
/EN/ A benefit concert for ABC took place in Prague on the 10th of February. During the event people was informed about multiple cases of people who are currently imprisoned and how to support them. People had an opportunity to get some food, dance and send some postcards for prisoners and to support ABC financially.
Significant part of the event was informing about tortured anarchists and antifascists in Russia and about so-called "Airsoft" case. With this event we all would like to express our solidarity not only for folks going through the hell of tortures and prisons. We also would like to support those coming through the nightmare of repressions but staying outside, missing imprisoned ones: friends, family and beloved people. Their lives changed suddenly by FSB officers who fabricated this horseshit case.
You are not alone.
/RU/ 10 февраля в Праге прошёл бенефит концерт в поддержку Анархического Чёрного Креста. Во время мероприятия распространялась информация о множестве случаев разных людей, находящихся в в настоящее время в тюрьмах, а также о том, как их можно поддержать. Люди могли поесть, потанцевать, послать открытку в тюрьму и материально поддержать АЧК.
Неотъемлимой частью мероприятия было внимание к событиям, происходящим в настоящее время в России – о арестах и пытках тамошних анархистов и антифашистов по так называемому делу "Страйкбол". Этой акцией мы все хотели бы выразить свою солидарность не только ребятам, на долю которых выпало через ад пыток и тюрем. Мы также хотели бы поддержать тех, кто проходит ночным кошмаром репрессий вне решёток, на т.н. "свободе", у которых отняли ныне заключённых ребят – друзья, подруги, семьи и любимые. Их жизнь изменилась в одночасье по вине ФСБ, которая сфабриковала это безумное дело.
Вы не одни.
Jak podpořit uvězněné / How to support / Как помочь: https://avtonom.org/en/news/support-anarchist-and-antifa-prisoners-stpetersburg